Custom Beer Bottle Koozies
Promotional Beer Koozies Get Results!
Close your eyes and picture the warmth of the sun, the cool breeze coming off the lake on a hot summer day, or the smell of grass in the park during a barbecue. Feels good, right? Not let's picture these same scenes with your company logo on beer koozies. Can you imagine the amount of exposure your company would receive?
Everyone loves beer bottle koozies and they can be used everywhere; from summer barbeques, to late fall tailgates, the options are endless. This means your custom beverage holder will be shown off all year long, gaining maximum exposure for your brand. Custom beer insulators are the perfect accessory for any get together, meaning that they make an effective promotional item.
Get your free beer koozie quote today and start promoting your brand with the most effective promotional product.
Two Side Imprint Promotional Beer Koozie
Basic Collapsible Beer Can Koozie
Customized beer holders keep your beverage of choice colder and more refreshing longer. This can holder coolie is ideal for promotional campaigns, picnics, weddings, and tailgates.
This can coolie is collapsible, folding flat for ease of transportation, whether it is to the beach, a party, tailgating or your own backyard.
These promotional beer cozies are designed to be a can holder for 12 oz. cans and is made with premium 1/8" thick, high-density, open cell foam, offering a more comfortable grip around your drink.
More Popular Drink Holders
Camo Can Koozie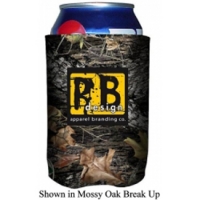 Camo can holder offers Mossy Oak Break Up, Mossy Oak Duckblind, Mossy Oak Obsession, and Mossy Oak Treestand. Coolie is collapsible, allowing you to conveniently carry it with you anywhere you go.
Solo Style Cup Koozie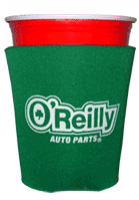 This custom koozie allows you to create something truly unique intended for any event. Solo style cup coolies are perfect for cookouts, picnics, and parties. Insulates your beverage of choice, giving you a refreshing drink.
Logo Coolies is you first source for promotional can or bottle custom koozies, water bottle holders, and beverage insulators. We even carry coolies for solo cups, tall boys and coffee cups. Koozies are perfect for weddings, save the dates, graduations and birthdays. Promote your next event with a koozy.